Understanding Contract Law: Components of a Contract and More
What is the Process for Forming a Contract?
The following four components make up a valid contract:
Offer:
Initially, an offer should be made by a party. The terms they wish the other side to abide by, need to be stated by them. Upon the other party's agreement to the terms of the offer, it may be accepted by the other side, thus the agreement is done.
Acceptance:
An agreement is complete when the other party's offer is accepted. The side that accepts should do so on the same conditions as the initial offer. They need to ensure that the other party is aware that they accept it. 
There is no agreement provided they propose distinct terms- rather it is a counteroffer. The first party, then, must determine whether to accept the counteroffer or come up with a new counteroffer.
Consideration:
A valid contract necessitates both sides to surrender something. It is known as consideration. For instance, when it comes to an employment contract, one party pledges to surrender money and its signatory to surrender labour. Both parties give something up to obtain something else they desire in a contract.
A Joint Intent to Enter Into a Contract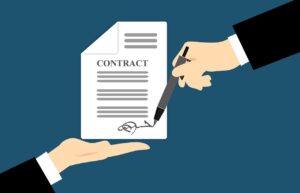 In order to have a legally binding and enforceable agreement, each side should intend to be bound by it. It's possible both sides won't have a joint agreement to enter into a contract provided a document states it's just a letter of intent. This category typically includes agreements between friends casually.
 Often, the promise of recompense in response to a specific act forms an enforceable agreement with the individual who does the act. Case in point- If anyone provides recompense for information which results in the arrest for a misdeed, then the individual who gave the info can request enforcement of the reward. Alternatively, an ad is not a contract in the
absence of an extra, personalised invitation from the merchant for the shopper to purchase the merchandise.  
An implied contract also exists. Case in point, a patient who avails medical care has an implied contract with the doctor, to pay a reasonable amount for the services they receive. As is the case with dining at an eatery, an individual has an implied contract to pay for the food he/she buys. 
What is the Court's Interpretation of a Contract?
The court interprets the contract by analysing the clarity of the contract from the perspective of a logical and unbiased individual. Provided that the agreement lacks clarity, then the court might factor in the external evidence such as external testimony as well as the conduct of the parties. Written contracts are better, and certain contracts may even be declared nullified by the statute of frauds.
Choice of Law and Jurisdiction 
The choice of law and jurisdiction issues must be understood by the lawyers when they draft contracts and deal with contract disputes. The state law utilised by the court to construe a contract is known as the choice of law. As the majority of the contract law is state law, the final disposition of the case can be drastically altered when deciding to adjudicate a contract dispute with the specific state's law instead of the other.
The lawyer during drafting should give serious thought to including a choice of law clause into the contract. Additionally, they must be cautious again about the jurisdiction in which they prefer to litigate a contract dispute. As the rules differ in every state, these factors can greatly affect the outcome of a case. 
Violation of a Contract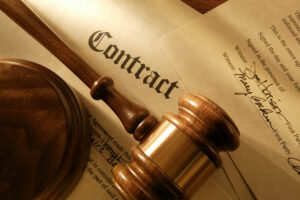 In the case of a dispute over the terms of a contract or a contract violation, both sides can likely turn to a court for resolution. If damages are sought, the party seeking them should establish that there is a valid contract. Furthermore, they need to convince the court there is a suitable solution.
Violation of Contract Remedies
For contract violation, there are a number of solutions that one party may request a court to impose. A typical remedy is compensatory damages. 
A party suffers these actual, monetary losses when a contract violation occurs. Whether they agree beforehand on the damages, provided a breach happens, it is known as liquidated damages. If a contract violation happens in the absence of any actual damages, the party affected can still receive some compensation. This is known as nominal damages. 
Occasionally, a party acts terribly and in an unjustifiable manner for contract violation. If this occurs, the court may impose additional charges known as punitive charges. But, this is a rare occurrence. In addition, a court seldom compels parties to perform their contract. This can occur for a scenario in which the monetary damages are insufficient, as that of a contract of sale for a unique product. 
New Issues in Contract Law
Like any other area of law, contract law evolves. During the present times, the authenticity of e-signs on a contract turned out to be pertinent and argued subject in contract law. Contract law practice comprises finding current issues and promoting modifications or amendments of law to let the client to carry out business in a fitting and beneficial manner. 
Advocates in Dubai 
With GH International's talented Advocates in Dubai, rest assured that you get expert advice on each of your legal issues. Through the years, our Advocates in Dubai have played an important role to achieve successful outcomes for clients in a wide range of matters, including large court actions to smaller court actions.
.
About GH International
GH International is a trusted Law firm in Dubai, with offices located across Fujairah, Iraq and London, founded to serve justice and offer legal assistance across the UAE. Due to our unique way of approach, our dedication, and our genuine interest in our clients, we have built a solid reputation.
Our Advocates in Dubai, Criminal Lawyer in Dubai, Real Estate Attorney, and the like dedicate themselves to generating the finest legal services to address the variety of issues faced by both companies and individuals. We follow these fundamental principles in all that we do, leading to a litigation process that is timely, clear, and effective. As an